ASEMS Part 2 - Guidance
Primary tabs
Secondary tabs
Overview
Overview
The Project Oriented Safety Management System (POSMS) describes processes and procedures which are designed to assist with the identification and management of the safety risks of equipment and services throughout the acquisition process. In doing so the POSMS seeks to assist Projects identifying the safety risks through application of hazard identification and assessment methodologies, to apply appropriate mitigation measures to eliminate or reduce safety risks to levels which are tolerable and As Low As Reasonably Practicable (ALARP) and to identify and manage any residual safety risk on acquisition projects.
The scope of POSMS is limited to acquisition projects for equipment and services. It includes safety issues relating to the environment (for example, health and safety risk from use of hazardous materials) and hence overlaps with some of the aspects of the Project Oriented Environmental Management System (POEMS). It excludes Occupational Health and Safety (OH&S) within the workplace which is covered elsewhere. It does however include OH&S issues associated with handling and operation of the equipment and services being acquired.
Safety Management Procedures
POSMS consists of 13 Safety management Procedures (SMPs) that can be used in isolation for a specific activity, or combined as a process. Further information on how the SMPs can be linked to the CADMID lifecycle can be found in the process maps. The relationship between SMPs is shown in the diagram below.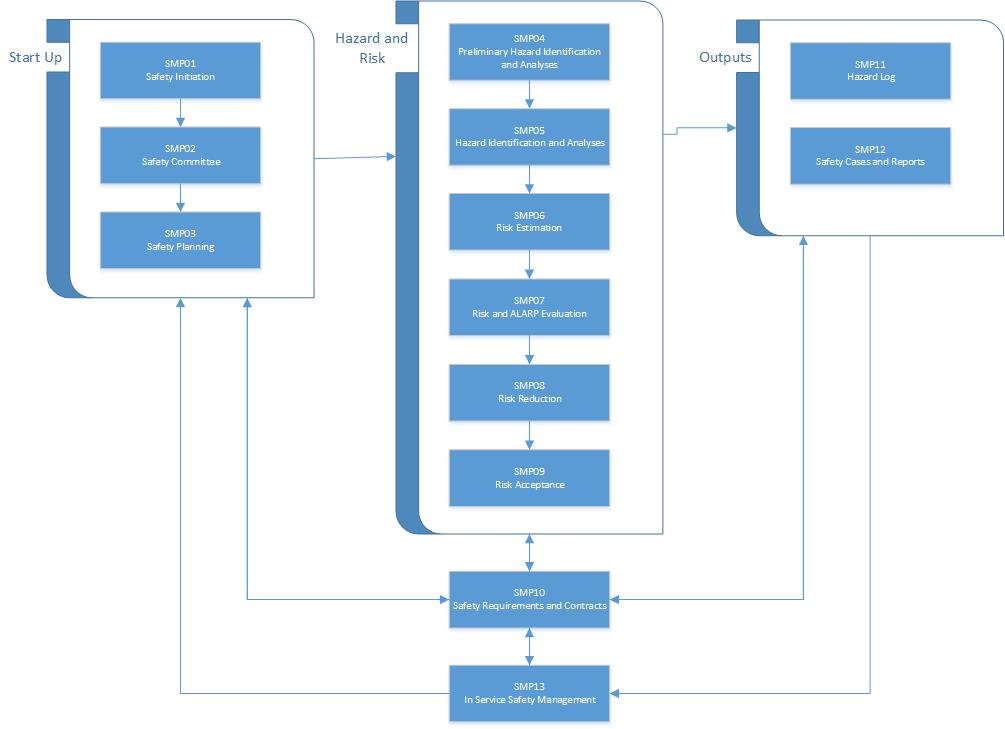 Responsibilities
The Delivery Team Leader is responsible for ensuring adequate resources are dedicated to the management of safety and environmental protection within their area of responsibility, and for facilitating appropriate arrangements to discharge those responsibilities in an efficient and effective manner.   
Responsibility for ensuring those arrangements are implemented, and achieve outputs which fully satisfy legislative and departmental requirements for safety and environmental protection (including compliance with POSMS), shall be formally delegated in writing to a named, competent individual within the team.
Procedure Completion
The Project Safety Manager will implement arrangements to ensure completion of the procedures. However, in most cases a large part of the detailed work will be carried out by contractors. In all cases Project Safety Committee members and other stakeholders should be involved in providing input and agreeing outputs.
Where different contractors are in competition with each other and have carried out separate safety activities, contractual and managerial arrangements should be made for the output from all to be made available to the successful contractor. This will reduce the likelihood of important information (e.g. hazards) being missed. 
In large or complex projects, the Project Safety Manager should co-ordinate safety activities across the project to ensure that all relevant and credible information provided by any party, including those outside the scope of a particular Contractor's control, is captured and managed through the relevant procedure.
Alignment with Environment
SMPs should cross reference Environmental analyses against Safety analyses, so that common issues are identified and where possible assessed together, and should ensure that the potential Environmental Impact of a Safety Hazard, or a Safety Impact of an Environmental Aspect are not overlooked.
Assessment studies which can meet both Safety and Environmental evaluation requirements should be planned and conducted. Where this is not possible, alignment should help ensure that results of Safety Assessments are reviewed for Environmental Implications and vice versa.
Guidance for Different Acquisition Strategies
The requirements for SMPs do not change for Acquisition conducted through intergovernmental agreements, OCCAR, multilateral or collaborative programmes. It is MOD policy that the same standards are met, and that assurance that these standards have been met can be demonstrated.
Where the project involves a mid-life update, existing history will obviously provide a major input to SMP activity. Similarly, where the project is likely to involve Commercial Off-The-Shelf or Military Off-The-Shelf solutions (including non-UK solutions) the existing history of these solutions provides a starting point. However, in all these cases there is still a need to carry out SMP activity.
Safety Management Procedures
Selecting any number of terms from the various taxonomies below will filter down the content of this page to those entities which have been classified with the specified term using the appropriate taxonomy. Once selected, the taxonomy term will be added to the Active Filters list. Selecting a taxonomy on the active filters list will disable that filter.
Project Safety Initiation
This procedure describes the start-up of safety management activities on a project. It identifies safety stakeholders, and legislative and other standards that should be satisfied. The procedure also creates the key elements of the safety management organisation for the project.
This procedure describes the implementation of a Safety Committee, in order to ensure effective co-ordination between persons holding safety responsibilities.
This procedure guides the development of a Safety Management Plan which defines the Safety strategy, ensuring acceptable Safety performance through life.
Preliminary Hazard Identification and Analysis
This procedure provides guidance for conducting a Preliminary Hazard Identification and Analysis in order to determine the scope of the safety requirements for the system.
Hazard Identification and Analysis
This procedure provides guidance through the Hazard Identification and Analysis process, in which all credible Hazards are identified and subsequently analysed in order to establish the associated Accidents and Accident Sequences.
This procedure provides guidance through development of the Hazards and Accidents identified previously, to estimate the level of Safety Risk posed by each.
Risk and ALARP Evaluation
This procedure provides guidance through Risk and ALARP Evaluation in order to identify where the system Risk meets Tolerability criteria, and where further action is required.
This procedure provides risk reduction guidance for hazards that have not been evaluated as being either tolerable or broadly acceptable and ALARP.
This procedure provides guidance for the acceptance of risks based upon the evidence presented in support of the ALARP statements.
Safety Requirements and Contracts
This procedure provides guidance for defining the requirements of the Safety Management System (SMS), and how it will be demonstrated that safety targets have been met. The procedure also provides guidance for the development of contractual terms with external contractors where they are required.
This procedure provides guidance for the continual recording of hazards, accidents and accident sequences, including risk management information, in the Hazard Log.
Safety Case and Safety Case Report
This procedure provides guidance on the development of a Safety Case and Safety Case Report. The Safety Case brings together all project safety information, forming a number of arguments which are summarised in the Safety Case Report.
In-Service Safety Management System
This procedure provides guidance for sustaining safety performance by ensuring in-service arrangements are recognised and operated.